[Update] September 2022
We are rolling out a major update to the LP Investment Flow. The below video will walk you through how the flow works now and what the biggest updates are...
Seeing the flow for yourself
To see what your public fund page looks like, click on your fund's name at the top of your GP Dashboard. This is what your fund looks like for prospective LPs.
How LPs interact with the flow
To commit to your SPV, LPs click "Invest now" on the deal page and then enter a subscription amount.
To commit to your rolling fund, LPs click "Apply now" on the fund page then enter a subscription amount.
To commit to your venture fund, LPs click Invest" on the fund page then enter a subscription amount.
Then they must fill out more information about the entity they're using to invest. You can try this yourself to see what the investment flow looks like—just be sure not to click the Confirm Subscription button at the bottom.
If they haven't invested on AngelList before, they'll need to setup an investing entity. To do this, they'll first indicate whether their investing entity is an individual, trust, DAO, IRA, or firm. Depending on this, they will need to fill out slightly different information. Please note that only DAOs incorporated as LLCs or registered as Tennessee or Wyoming DAOs are eligible to make investments on AngelList.
Here's what it looks like for an individual: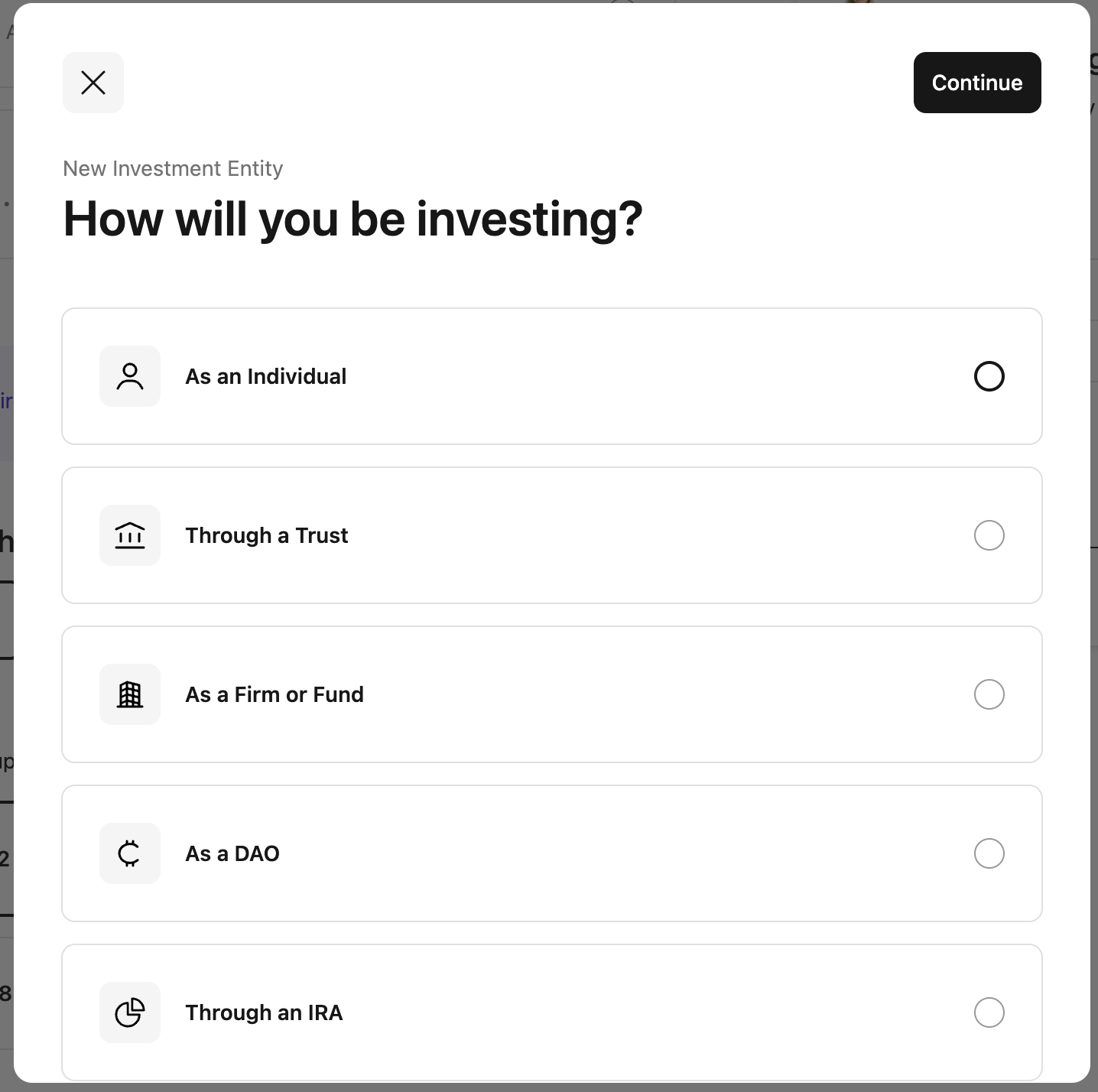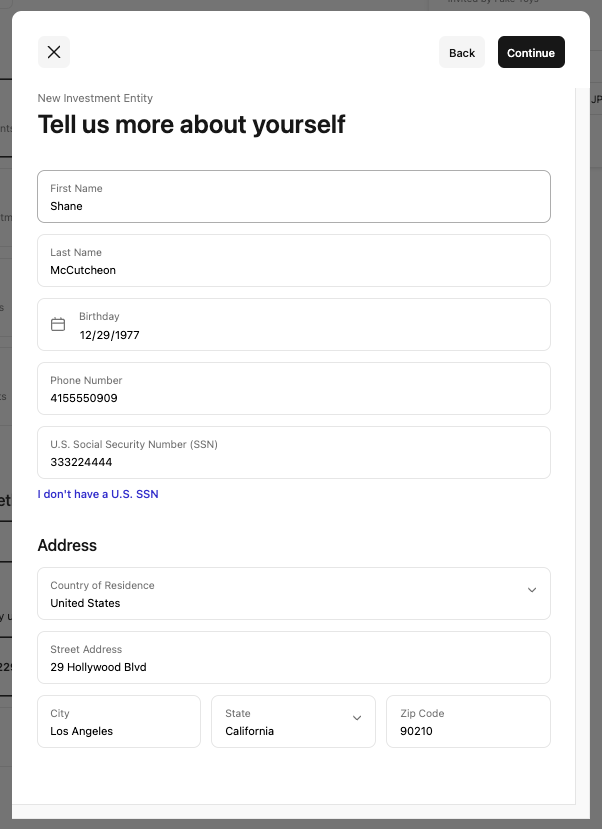 Then, we ensure the entity is accredited.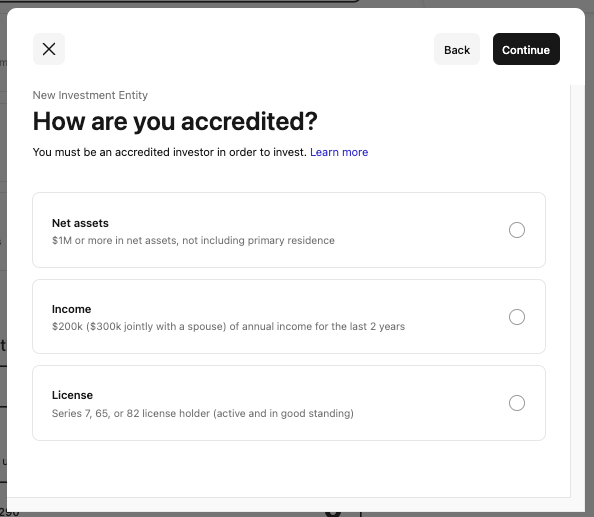 We've separated these questions, so that we can get more accurate answers about whether your LPs are Qualified Purchasers (QPs). This is important because SEC investor limits are different for QPs.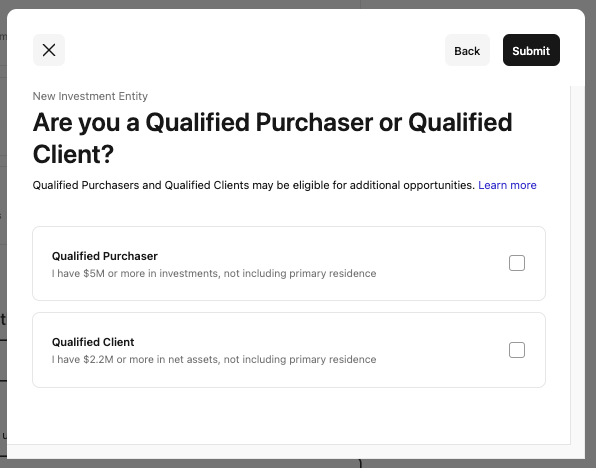 Once they've setup their investing entity, they can choose how to fund their investment. If they choose to wire, we will follow up with wire instructions. If they choose to add a bank account, we will automatically initiate a transfer as soon as they confirm their subscription. To add a bank account, the investor needs to add the account holder name, the routing and account numbers, as well as whether the account is savings or checking.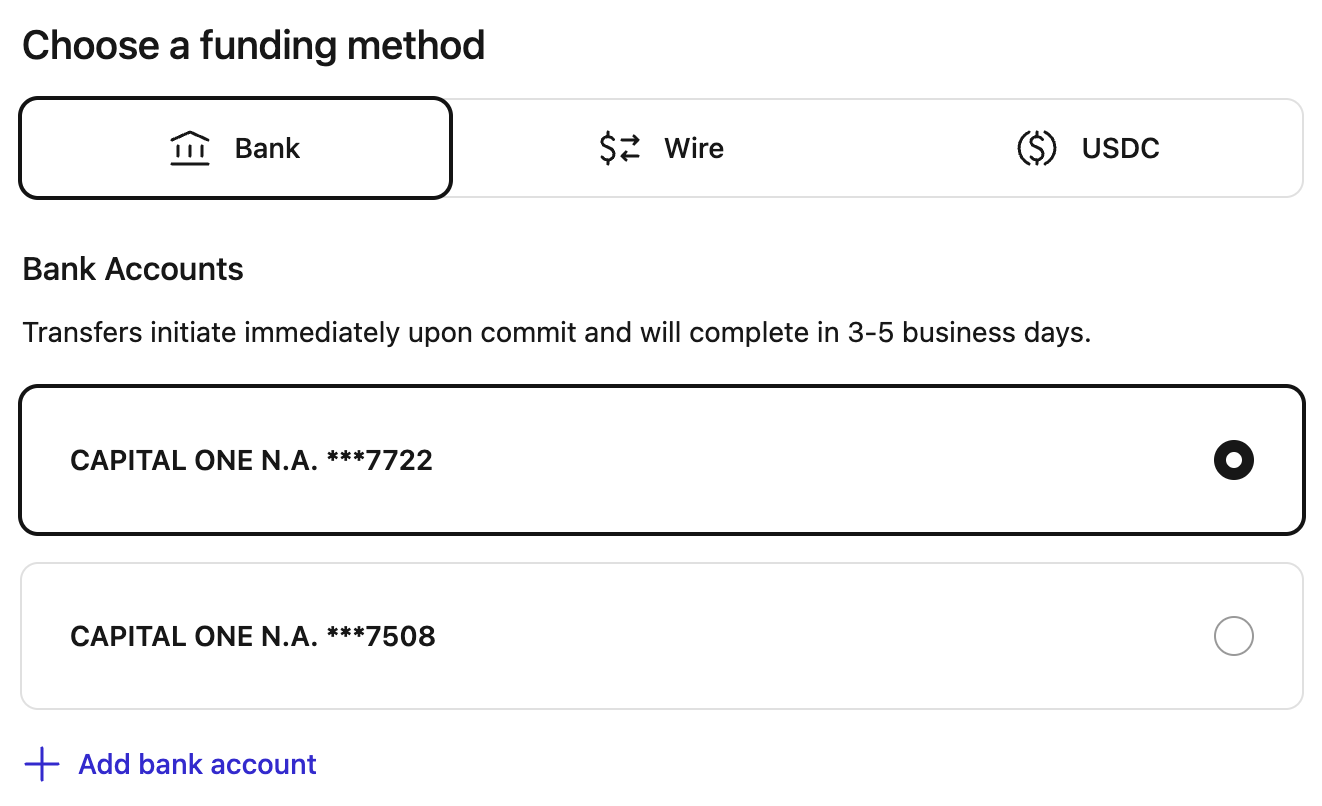 Finally, investors are able to view the closing documents and are required to agree to closing terms.