SPV setup, regulatory, and add-ons costs are distributed pro rata across all of the LPs in the SPV. The amount is pro-rated across LPs based on investment amounts, meaning an LP will pay its share of fees relative to its ownership percentage of the SPV.
AngelList Platform LPs pay an additional admin fee between 0% and 7% (charged over 6 years), depending on the amount raised. AngelList Platform LPs are grouped into a separately managed vehicle to invest alongside your LPs.
Example for an SPV paying $8k setup fees and $2k regulatory fees:
SPV raises $110k from LPs

$10k is taken out to pay for setup fees ($8k) and state regulatory fees ($2k)

$100k is wired to the Company as investment

An LP who contributed $55k to the SPV (=50% of the total SPV) will see $5k of their contribution go towards fees

An LP who contributed $10k to the SPV (=9.09% of the total SPV) will see $909.09 of their contribution go towards fees (=9.09% of $10k)
What LPs see
At the time of an LP investing, the fee is expressed as an estimate. This is because the actual fee that any LP will bear is dependent on the total raise and LP makeup, which is unknown at this time.
This is what LPs see on the deal page prior to investing: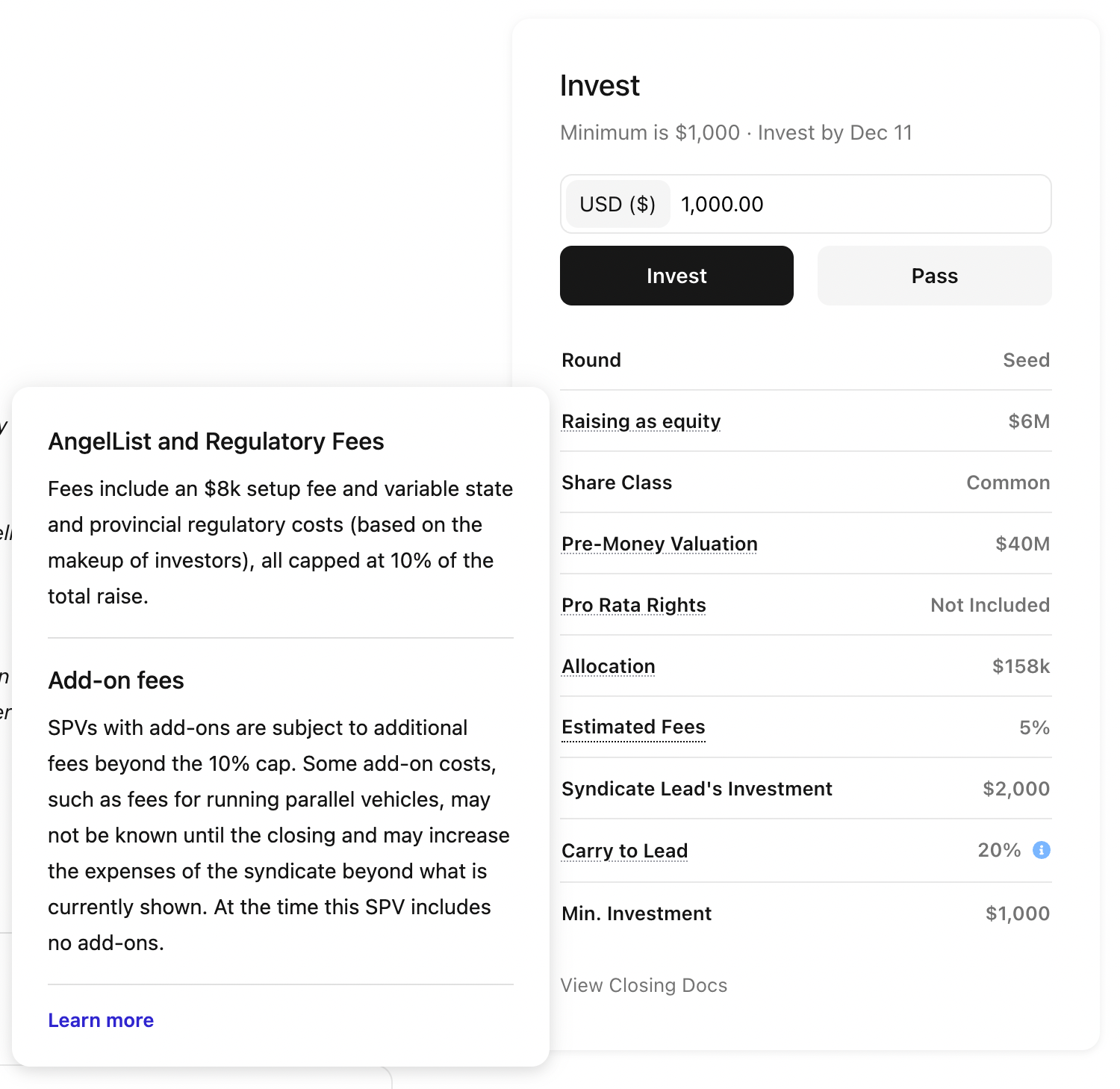 For LPs, fees are always included in the investment amount. In other words, fees do not come on top of whatever amount they chose to invest.
In the below example, the LP invested $1k. Their ownership percentage in the SPV is based on $1k. However, only $967.21 went towards the portfolio company.
This is what LPs see in their portfolio dashboard after the investment has been finalized: